Tap into limitless potential with the Social Media Success for Professionals podcast on mastering the art of lead generation on social media! Learn to capture attention and develop client relationships with proven and practical strategies. Plus, Heather will help you grow your brand voice and drive sales with creative content ideas. Listen now for free as we unlock a world full of possibilities!
Are you spending big on marketing but not seeing your efforts translate into conversions? Look to your sales strategy. In this episode, Tammy Vasbinder explains how to set up meetings to present to prospective clients, conduct effective discovery calls, and follow up on those initial communications to secure paying customers. Listen to gain valuable insights on why you might let clients slip through the cracks before they reach the end of your sales funnel.
Tammy is the founder and CEO of Vast Strategies, a marketing and advertising agency comprising diversely skilled industry titans. Her over 20 years of experience in sales and buying have given Tammy a wealth of knowledge about what works in marketing and what doesn't.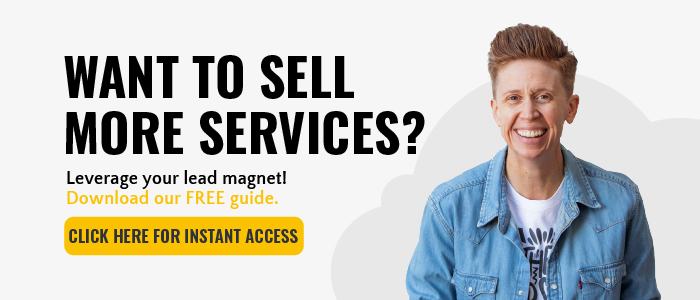 Social Media for Success for Professionals Talking Points
[1:50] Introduction to Tammy
The importance of strong sales techniques
Consistent and professional branding
Her team offers front-to-back solutions
Getting advice for web design and social media management on a budget
[5:05] Getting clients from the discovery call to the sale
LISTEN and be SILENT
Learn what your potential client's goals are and what they've tried
Don't be tempted to spout your features and benefits
[6:53] How to end a discovery call
Show appreciation
Acknowledge the need for further questions
Make it clear that both parties need to decide if it's a good fit
Avoid becoming an unpaid consultant
[10:53] What's the next step after meeting a client?
Ultimate upfront contract
Asking clients if they can see themselves moving forward (and when)
Ask when you should follow up
Pin down what clients would need to say "yes."
[13:30] Mastering the follow-up
Always be communicating
Let clients know you can proceed once payment is completed
Avoid blaming the client for failing to connect
Don't "chase people down."
Send a final "closing the file" message, and people will respond.
[17:00] Bonus business tip
Scheduling a "check-up" call
Asking for feedback to grow and build client relationships
Asking for introductions to connect with more clients
Asking for Google reviews
[21:00] How to connect with Tammy and her team
Classes, workshops, & training (in-person and virtual)
Marketing, media audits, branding assistance
Connect with Tammy Vasbinder l Vast Strategies:
www.vaststrategies.com/
www.facebook.com/vaststrategies
www.linkedin.com/in/tammy-vasbinder-b387029
www.youtube.com/channel/UCUrSeWxLgTvTuZjqlzYq5cQ
Before you can close a sale, you've got to spread awareness about your brand and reach prospective clients to interact with your business. For tips on leveraging high-value information to entice your target audience, download our guide 15 Ways to Use Your Lead Magnet To Sell More Services.
Subscribe to Social Media Success for Professionals