Tap into limitless potential with the Social Media Success for Professionals podcast on mastering the art of lead generation on social media! Learn to capture attention and develop relationships with clients with proven and practical strategies. Plus, Heather will help you grow your brand voice and drive sales with creative content ideas. Listen now for free as we unlock a world full of possibilities!

Consistent leads are the lifeblood of any business. So why do so many businesses struggle to do them right?
Greg Russell helps speakers, consultants, and entrepreneurs generate more income and work less with his Consistent Cash Flow Machine. Join us for a conversation where he breaks down everything you need to know about lead generation!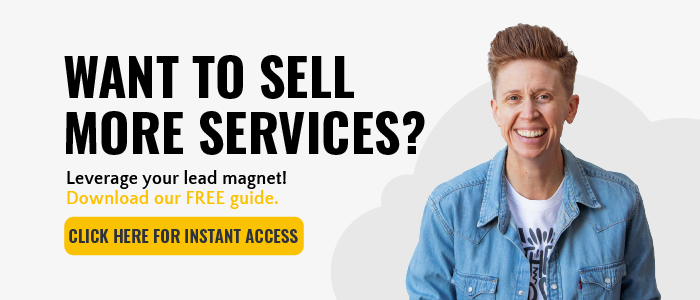 Social Media for Success for Professionals Talking Points
[2:10] Why consistent lead generation is so important
• Greg helps entrepreneurs build systems that bring in a constant pipeline of leads
• Both seasoned and new entrepreneurs struggle to generate a consistent flow of leads for their business
• Bringing in at least one interested prospect each day can ensure the survival of your business
[5:14] What most entrepreneurs get wrong about lead generation
• The secret to generating leads is relationships
• Somebody you know—or somebody they know—can help flood your business with prospects
• Technology and automation help you find the right relationships and facilitate communication
• Finding another group that can connect you to your ideal market is easy, but a lot of people overthink it
[7:20] How Greg learned the value of business relationships
• Greg and his mother found success in a network marketing direct sales company selling nutritional products, only to have the company take the products away from them
• Greg decided to build digital marketing assets, while his mother turned to real estate investing
• Greg designed a website for his mother, who showed it to her teacher in her real estate investing class
• Greg offered to build the teacher a website for free if he would promote Greg's digital asset services to the rest of the class
[9:52] You just have to ask
• Look at every person you know as a potential connection who can help you get leads
• Be open-minded and ask the right questions; anyone you interact with could know someone who needs your product or service
• Building relationships online is the same as connecting with people offline—get out there and know people
• Always remember that you are worthy of asking for a referral
[12:40] Get leads quickly
• Join Greg's 5-day Ultimate Leads Challenge!
• Greg will walk every participant through the steps they need to take to generate leads
• The challenge is completely free, and you will walk away with new leads
[13:30] Making ads work for you
• Generating leads prepares you to scale your business with ads
• Paid ads have a time and a place
• You have to make ads work for you
• If you run ads before you understand your own messaging and how clients relate to your products or services, you'll just end up wasting money
[15:16] Invest your time in your business
• Organic growth methods are about time, not money • If you're willing to put in the time and put yourself out there, you'll start to get daily leads
• Once you generate income from leads, you can start investing more money into things like paid ads and external marketing teams
With these steps outlined by Greg Russell, entrepreneurs, and business owners are poised to build systems to sustain a regular flow of leads. Plus! Right now, we're offering a complimentary download with 15 ways to leverage your lead magnet to attract your perfect client and bring in qualified leads.
Connect with Greg Russell:
https://www.facebook.com/greg.h.russell
https://www.facebook.com/AskGregRussell
https://www.facebook.com/groups/technologytuesday/
https://www.facebook.com/SuccessTeamMarketing
https://www.linkedin.com/in/askgregrussell
https://www.instagram.com/askgregrussell/
https://www.youtube.com/c/GregRussellMarketingExpert
https://twitter.com/askgregrussell
https://twitter.com/successteam1
Subscribe to Social Media for Success