Over the last four years, one of the things that helped us grow has been using content marketing strategies. This might be something you're looking to do as well!
We're going to share the three must-have content marketing goals every brand needs.
Have A Plan
When you're creating original content to grow your business online, it can be tempting to just wing it. But if you truly want your content to land with your audience, implement these designed-for-maximum-audience-engagement goals.
First Goal: Attraction
Ok, so the first goal you want with your content marketing is attraction. We want to attract people that don't know us yet. You want to introduce yourself and show your future fans what you and your company are all about.
Share high-level brand education content like why you're important, and why you do what you do. Talk about the brand founder and who they are and share stories about your brand values. Introduce your products through easy-to-understand educational content. Share the benefits of your product or service.
And when you can, add humor. Aim to be entertaining and inspiring with attraction content. From a psychological standpoint, if you can make someone laugh, they will like you. Humans find laughter highly attractive, so when you can, don't take yourself too seriously and be funny.
Second Goal: Consideration
Your second content marketing goal is to get your audience to consider you in their buying processes. This is for people who either follow you or heard of you but haven't made a purchase yet.
For example, if you want coffee in the morning but don't have any at home, maybe you'll stop by Starbucks because you're familiar with the brand.
With consideration content, be sure to align with your customer's values and ideals.
Share how-to videos (how to use, how to apply, etc), customer testimonials (how service or product has helped someone), reviews of your product or service, and FAQ's. Frequently Asked Questions are super important to combat any resistance to purchasing from you.
Make sure to share user-generated content and to help you with new ideas, poll your audience for stories. The answers you get can be great ideas for more content.
Third Goal: Conversion & Loyalty
It's important to focus on conversion and loyalty content for the people who already purchased from us. We want all the repeat customers we can get!
You'll notice some overlap here with this content. You'll want to share customer testimonials, reviews, and how-tos (maybe your product is multi-use). Share answers to the FAQ's your customer service or social media team receive. Share UGC in the form of a video.
Offer a brand ambassador program that includes some pretty sweet incentives for joining.
Share call-to-actions across your platforms. Use email to promote social, use one social platform to promote the others, and so on.
Here's an example of a Facebook post we shared with our network that gained us over 40 new followers in less than a week. Ask and ye shall receive!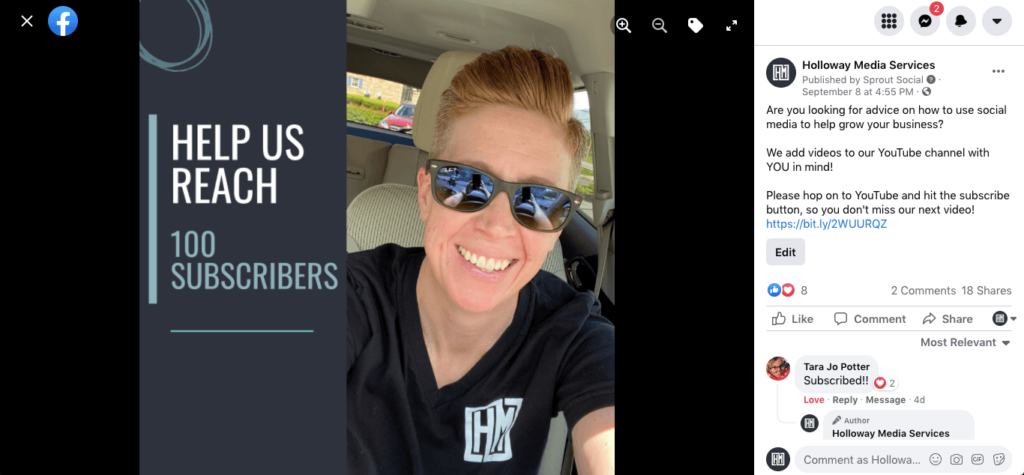 The takeaway…
Don't wing it. Follow this easy content marketing strategy. On each post, tell your audience what you want them to do, stick with this strategy for at least 30-days, and then reevaluate what brought you the greatest results.
Your content marketing strategy is only as good as your goals. If you need some help with what to publish next, let us know! We'll work together to turn your goals into reality so you can grow your business faster than ever before.